Saurahuone is a local-owned, private café, which is a response to mass-produced, processed, nutrient-poor food products and chain restaurants. In our small kitchen, we prepare our daily lunch from high-quality ingredients. Our skilled chefs bake delicious cakes and pies, with both traditional and vegan recipes. We only serve wines from European family farms and beers and lemonades from Finnish microbreweries. Our team of skilled workers respects our values and is ready to dip their hands into the cheese and dough bowl every morning. We love each and every one of our customers and hope that this – the importance of people – is reflected in the way we operate. We are grateful to each and every one of you who keeps our heads above water. Käpylä rules! 
Saura, cafe, catering ja agency
(Tove Djupsjöbacka,  published by KamuKanta soi 1.2.2023)
LINK TO THE ARTICLE IN FINNISH/IN SWEDISH
TRADITION AND A TOUCH OF MODERNITY ARE AT THE HEART OF JOHANNA SAURAMÄKI'S WORK – ENVIRONMENTAL ISSUES ARE RAISING THEIR HEAD IN MUSIC EXPORTS
Johanna Sauramäki has become well known in contemporary folk music circles as the tireless agent of several cutting-edge artists, but she constantly has many irons in the fire. In addition to her music agency, she also runs the Saurahuone café in Käpylä, Helsinki, and there always seems to be new ideas on the go.
Johanna Sauramäki is a graphic designer by trade, but music has always been a great passion of hers and she is an active singer in the choir Philomela, among others. She founded the music agency rather impulsively after experiencing a performance by the duo Niillas Holmberg and Roope Mäenpää in Inari.
– It was completely revolutionary, the greatest musical experience ever! It redefined my whole life.
I had to tell the whole world that musicians like this exist! In the same vein, Johanna Sauramäki and the agency she founded have been actively involved in bringing great artists to the attention of both Finns and the world.
One of our longest-standing partners is the Tuuletar band, which celebrated its 10th-anniversary last year. The band released its first sheet music book during the anniversary year, and the next album is already in the can. The four-singer acappella ensemble has been touring the world quite actively, in December they performed in Canada, and in January there was a long tour of Chile, where Sauramäki was tour manager.
– In the late spring, Tuulettare's calendar is full of Nordic tours, after which the band will take a year's break. After ten years of very active work, the band deserves a break.
Good things come slowly
The Music Agency started with passion and the passion still shines through in Johanna Sauramäki's work.
– I can't do this in a way that makes it just a business for me now. I just know how to take something that I think is so damn good, then I can speak for it. 
Many of the artists Sauramäki has represented have been shocking experiences for him. Sometimes you have worked with a person for years before their career takes off. For example, Sauramäki has represented Elsi Sloan since she was 16 years old.
– Elsi has always been a very special observer of her surroundings and a text writer. I've always thought that good things come slowly, and I've always wanted to protect people so that they find their own way of doing things.
And right now, Elsi Sloan's career is on the rise, as she has also made a name for herself as an actress and has been seen in the lead role in, for example, the film Sydänpeto, for which she is now a Jussi nominee. Elsis first album will be celebrated at GLivelab in Helsinki on 24 February.
Saura Booking Agency represents many leading names in contemporary folk music such as Okra Playground, Vildá, Solju, Pauanne, Maija Kauhanen, Päivi Hirvonen and Vimma, but the genre coverage is broad and unprejudiced. It is worth mentioning that three of the artists represented by the agency are this year's Emma nominees.
The stable also features names from neighbouring countries such as the Estonian Puuluup and Trad.Attack!. Among the newest signings is the Umeå Sami Katarina Barruk, who will visit Finland on the occasion of Sami National Day, performing in Ivalo, Tampere and Espoo's Sellosali.
– Umeå Sámi is a disappearing language, at one point only 20 people spoke it. It is in that language that Katarina makes music – and with the very feeling that is valued in our agency, chewing up her own traditions in a slightly new form, for new generations and audiences.
Live gigs are the be-all and end-all
Johanna Sauramäki has been a familiar face at music export events for the past ten years. The pandemic overshadowed this activity for a long time, but in autumn of 2022, things started to get back to normal.
– I personally feel that sales of our own artists have returned to normal. Of course, the war situation is a hindrance, but not too much.
During the Corona era, virtual events were something of a lifeline for both artists and other people in the industry, even if they did get tired. Sauramäki organised streamed gigs for his own artists from her private café. 
– Yes, sending them out to the world felt meaningful, both for myself and for the artists. We tried to make them a bit like a living room, so there was both conversation and music.
However, for an agent, live action is still the be-all and end-all.
– I don't start working with an artist until I see a live show, you can see all the subtle nuances.
Sauramäki's company has also taken control of music exports. In November, it organised its own export event, Saura Exp. 20 Finnish and European industry professionals were brought to Finland and Käpylä in Helsinki to meet the artists represented by the agency, a bit like the Arctic Paradise events organised by Music Finland back in the day.
No more One-shot concerts
Johanna Sauramäki has been advocating for environmental issues in the music export scene for a long time, and she finally feels that the debate is broadening and moving forward.
– I have always had a huge respect for nature and the Earth. Preserving nature and it's biodiversity is something I want to promote in my work.
One issue close to my heart has been the reduction of one-shot concerts.
– For a multi-person band to fly to Europe to do one gig and then fly back is absurd in this day and age. Still, sadly, many buyers want an artist exclusively in their country.
In this case, a clause is written into the contract stating that the artist must not have another performance within a radius of, say, 700 kilometres for three months. Johanna Sauramäki fights against such contracts, although it is always a risk for the agent. Little by little, the fight is beginning to pay off.
– Major debates are now taking place everywhere. It's great that the attitude that many promoters have towards these concerts has started to change.
Recently, there has been more awareness raised about environmental issues in industry seminars and panel discussions. MARS, Tallinn Music Week, Music and Media, European Folk Network, Iceland Airwaves, and so on, Sauramäki lists.
How my restaurant became a successful takeaway place
HS 30.3.2020 READ THE ARTICLE
City-magazine LUE
Saurahuone – A lovely café opened in Käpylä's "urban countryside"
Organic wines, rich ingredients, microbrewery beers, craft wines and ageless hanging out. This is Käpylä's lunch café and wine bar Saurahuone.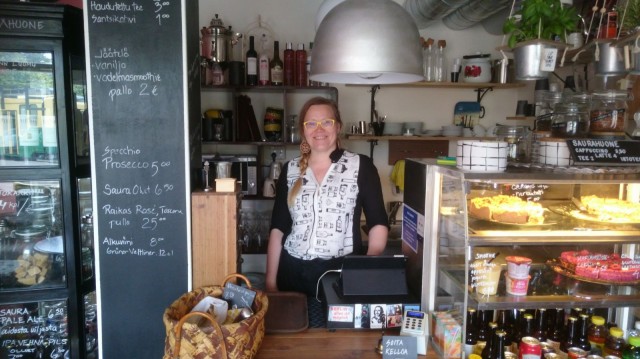 Johanna Sauramäki, owner of Saurahuone, happily behind the counter. Photo by Jessica Sorola
The urban charm now extends to Käpylä, where a brand new lunch café has opened in the heart of the city. The café was born from the enthusiasm of Johanna Sauramäki from Kallio for the food world and its trends. Sauramäki is a graphic designer by education and her company provides catering services alongside doing graphic design. The next step was to set up a place that combines these things. The end result was Saurahuone, which serves as the mothership of the company's components as well as a customer café.
"I wanted to set up a multifunctional space where I could operate all of Saura's services," says Sauramäki.
They first looked for a commercial space in Kallio, but when the opportunity arose, they decided to set up in Käpylä.
"I've lived in Kallio all my life and I love it. But I got a good offer for a business space in Käpylä, and since Käpylä is the second most beautiful place in Helsinki, it seemed natural to open a business there. Käpylä is such an urban countryside," Sauramäki says. 
The interior design is made only by locals. It is made up of the old belongings and furniture of local residents.
"The house is from the last millennia, and I wanted to buy furniture second-hand from the people who live here. Many people were very happy about this.", Sauramäki explains.
The large window is decorated with a trombone, which was a gift from sauramäkis brother when the café was opened. There are also egg shakers, and an old vinyl player, so customers can play music of their choice. The place is homey and cosy.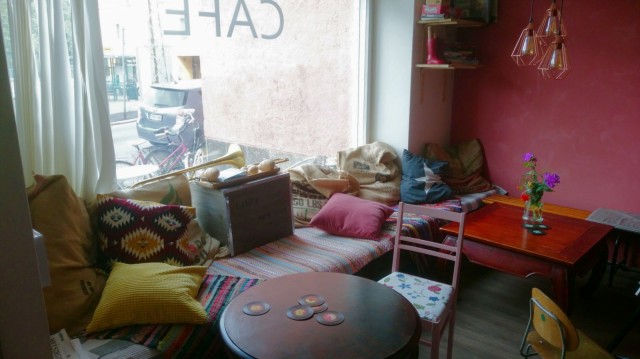 This is how nice it is inside the café. Photo by Jessica Sorola
"I want Saurahuone to be a place where everyone, of all ages, can meet each other. The space is quite small, seating about 25 people, but that's probably part of the atmosphere." Explains Sauramäki.
Sauramäki categorises Russian and Asian soups as her bravura. The café's menu is vegetable-centric, but there are also meat options. Salads, bread, pastries and pies are also on the menu. The menu is based on the principle of 'something for everyone'. Lunch is available on weekdays from 11-14 at a price of €7.90-10.
The owner tells about having spent her summers at a farm, where all the food was from the farms' grounds. Holding onto this tradition formed a part of the cafe's raw material selections.
"Our raw food is mostly organic. Not all of it though. We are still careful about what we prepare our food with. The food needs to be clean and taste good." Says Sauramäki
Since the beginning of last September, Saurahuone Poke Friday with a Hawaiian poke bowl to celebrate the arrival of the weekend. The bowl is assembled in front of the customer, where it's tailored to suit every individual's tastes. Poke bowls can be filled with vegetables, fruits, meat, or just about anything.
The focus in Saurahuone is not only on the food but also on the drinks. Saurahuone favours organic wines from Central Europe, with a variety of wines from the Austrian Hörmann farm. Wines from France and Italy are also brought to the cafe.
"Austria has some of the best winemaking conditions. There are a lot of family businesses there and as a family business owner I want to support them," says Sauramäki. 
Products from small breweries have also been added to the selection from a microbrewery in Helsinki. The café also has its own signature, Saura, beer a strong but refreshing pale ale. Saura 5.5% costs €6.50 on the spot and €6 to go. 
The café has received a warm welcome and customers have already asked when a similar one will open in Kallio.
"I am very happy with this start. I fell in love with the whole of Käpylä so much that I decided to move there. Even though I will always love Kallio," concludes Sauramäki. 
Lunch café Saurahuone, Pohjolankatu 43.
Open Mon-Sat 9-18, Wed-Thu 9-20, Fri 9-22, Sat 10-22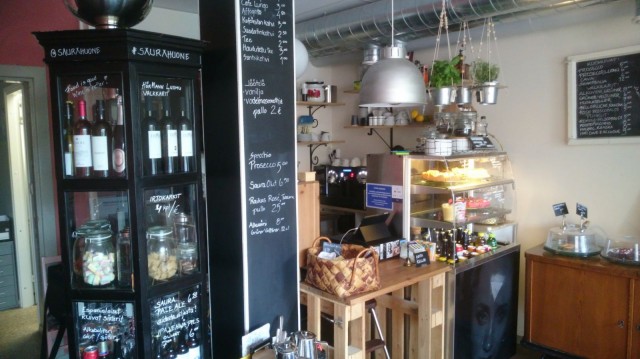 There's something for everyone. Photo by Jessica Sorola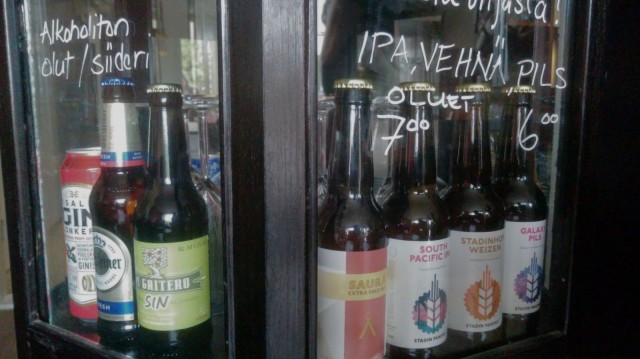 Stadin Panimon tuotteet ja Sauran oma pale ale. Kuva: Jessica Sorola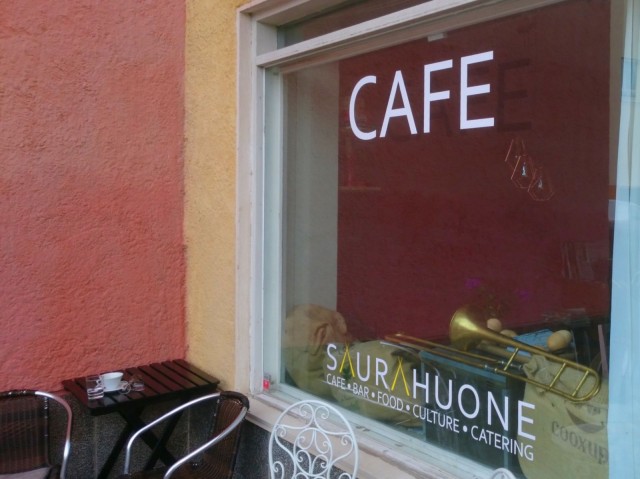 The trombone draws attention to the café window.
---
HS NOW-ATTACHMENT 21.12.2018